German Film Architecture 1918-1933
13.06. – 29.09.2019
Museum for Architectural Drawing, Berlin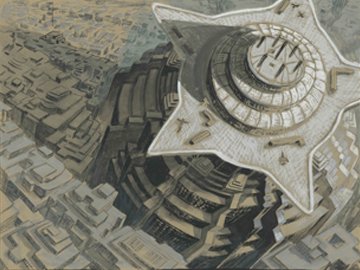 The year 2019 is marked by many important celebrations, including the 100th anniversary of the Bauhaus and the first German democratic constitution. A special historical and social constellation after the end of the First World War and up to the Nazi seizure of power afforded fertile ground for new avant-garde styles in the Weimar Republic: Futurism, Dadaism, New Objectivity and Expressionism, which influenced not only the visual arts but also literature, music, theatre and film. The new mass medium soon won over the audience, for cinema provided a welcome distraction from the political crises and worries of everyday life. During the Weimar Republic, German film flourished: the productions of German film studios enjoyed great popularity, thanks not least to the work of film architects. Their masterly realised set designs were first created on paper: the Museum of Architectural Drawing now shows designs by Emil Hasler, Robert Herlth, Otto Hunte, Erich Kettelhut, Hans Poelzig, Franz Schroedter and Hermann Warm for The Cabinet of Dr Caligari, The Golem: How He Came into the World, Metropolis, The Nibelungs, The Blue Angel and other masterpieces of the time.
The exhibition is based on loans from the Stiftung Deutsche Kinemathek in Berlin, the Deutsches Filminstituts & Filmmuseum in Frankfurt am Main and the Architekturmuseum der Technischen Universität Berlin.
The exhibition is accompanied by a catalogue.
Image: Erich Kettelhut. Metropolis, View of the city from above with Babel tower, mixed media on paper, highlightened in white, 45,4 x 52,5 cm © Deutsche Kinemathek – Erich Kettelhut Archiv
Architecture Exhibitions Weekend

On June 22 and 23 our Museum will be part of Architecture Exhibitions Weekend, an event organized by architectural collections and galleries in Berlin. On this weekend the Museum will open from noon until 6 pm and the entrance fee will be only 3€. School children, students, unemployed and people with disabilities can visit the museum free of charge.

Programme at the Museum for Architectural Drawing

June 22nd, 4 pm
Join the director of the museum for a special tour followed by a champagne reception. By good weather conditions, on the museum's terrace. Limited number of participants. The price per person is 7€, reservation required

June 23rd, 11 am
Children's programme You Draw Lines, I Draw Circles for families with children ages 3 – 8. 1€ per child, registration required

June 23rd, 1 pm
Guided tour in German for 5€ per person, registration required

June 23rd 2 pm
Drawing and Building – Children discover Architecture for school children ages 9-18! 6€ per person, registration required

June 23rd 4 pm
Guided tour in English for 5€ per person, registration required

We kindly ask you to register for the guided tour under
We kindly ask you to register for the children's programme under

You can find more information about the Architecture Exhibition Weekend here.