Centrifugal Tendencies. Tallinn – Moscow – Novosibirsk
7.10.2017 – 18.2.2018
Museum for Architectural Drawing, Berlin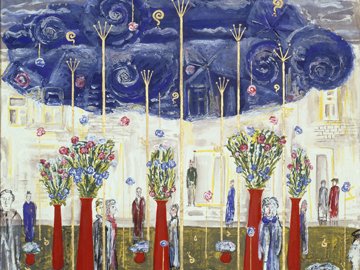 Centrifugal Tendencies. Tallinn – Moscow – Novosibirsk is the continuation in a series of exhibitions centred on visionary and socio-critical architecture in the Museum for Architectural Drawing. Following the works of Lebbeus Woods, Peter Cook and drawings from Alvin Boyarsky's collection, this exhibition presents so-called 'Paper Architecture' from the former Soviet Union. The term 'Paper Architecture' was coined in the 1980s by architect, curator and one of its protagonists, Yuri Avvakumov. It is often used as a synonym for unrealised building proposals, intended solely for the plan chest - yet to stop here would not do justice to the phenomenon. 'Paper Architecture' is mainly used to identify an architectural movement born in the Soviet Union of the 1980s, developed in protest against the routine of state planning offices of the time.

The exhibition presents around fifty drawings which can be grouped into three categories: the Tallinn School, Paper Architecture from Moscow and that from Novosibirsk. It includes works by renowned artists such as Leonhard Lapin, Yuri Avvakumov, Alexander Brodsky and other architects.
The exhibition is accompanied by a catalogue.
Image: Lev Evzovich, Mark Khaisman. Trolleybus Stop "Kropotkinskaya", 1984, Tempera on paper, 54,3 x 55,8 cm © Lev Evzovich, Mark Khaisman
Architecture de l'avant-garde russe. Dessins de la collection Serguei Tchoban
20.10.2017 – 19.1.2018
Cabinet des dessins Jean Bonna, École des Beaux-Arts, Paris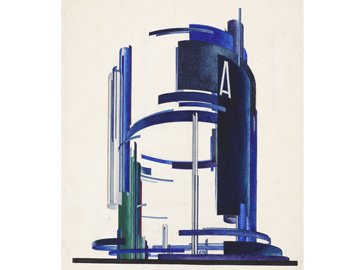 The exhibition at the Cabinet des dessins Jean Bonna of École des Beaux-Arts Paris shows drawings by Russian architects from the collections of the Museum of Architectural Drawing and that of his founder, Sergei Tchoban. The exhibited works convey the extraordinary development of architecture in the first two decades after the October Revolution.
The transformational processes in the society created new architectural ideas emanating from established architects and young graduates of new schools. The about 50 exhibited drawings illustrate the innovative approaches by the Russian architects between 1920 and 1940, which through its designs and graphic techniques impress with their variety.